B2B
Water bottle and pill box in one
YOS Bottle
Truth is, supplements and medicines are often forgotten, resulting in negative consequences for people's health. The YOS Bottle, a water bottle and pill box in one, makes sure people always have their pills and water on the go. That way, they won't forget to take their supplements or medicines.
Would you like to add this unique bottle to your product range? Become a reseller of the YOS Bottle. Would you like to use the YOS Bottle as a marketing tool or promotional item? Customise your own branded bottle! Customers will take the bottle with your logo anywhere, every day.
7

Countries

3

Product awards

+3000

Selling Points
Your Organized Supplements
YOS stands for "Your Organised Supplements". The inventor of YOS is Joop Opmeer, a young entrepreneur from Rotterdam. He saw how his own mother struggled daily with taking her medication on time and sometimes even skipped it entirely because she was on the road. This led Joop to delve deeper into the problem and discover that taking the wrong medication and supplements is a growing problem in Europe, with all the associated consequences.
Not only does the wrong use of medicines and supplements hamper general health, it also costs society a lot of money. Partly because of this, the first YOS product was launched in 2019: the YOS Bottle.
Since its launch in 2019, things have been going fast, for example, the YOS Bottle has been featured in the Dutch TV program Dragons Den and Rotterdam's top entrepreneur Michel Perridon has stepped into the project. Meanwhile, we are proud that the YOS Bottle can be found over 3,000+ sales points within Europe – in seven different countries.
Contact us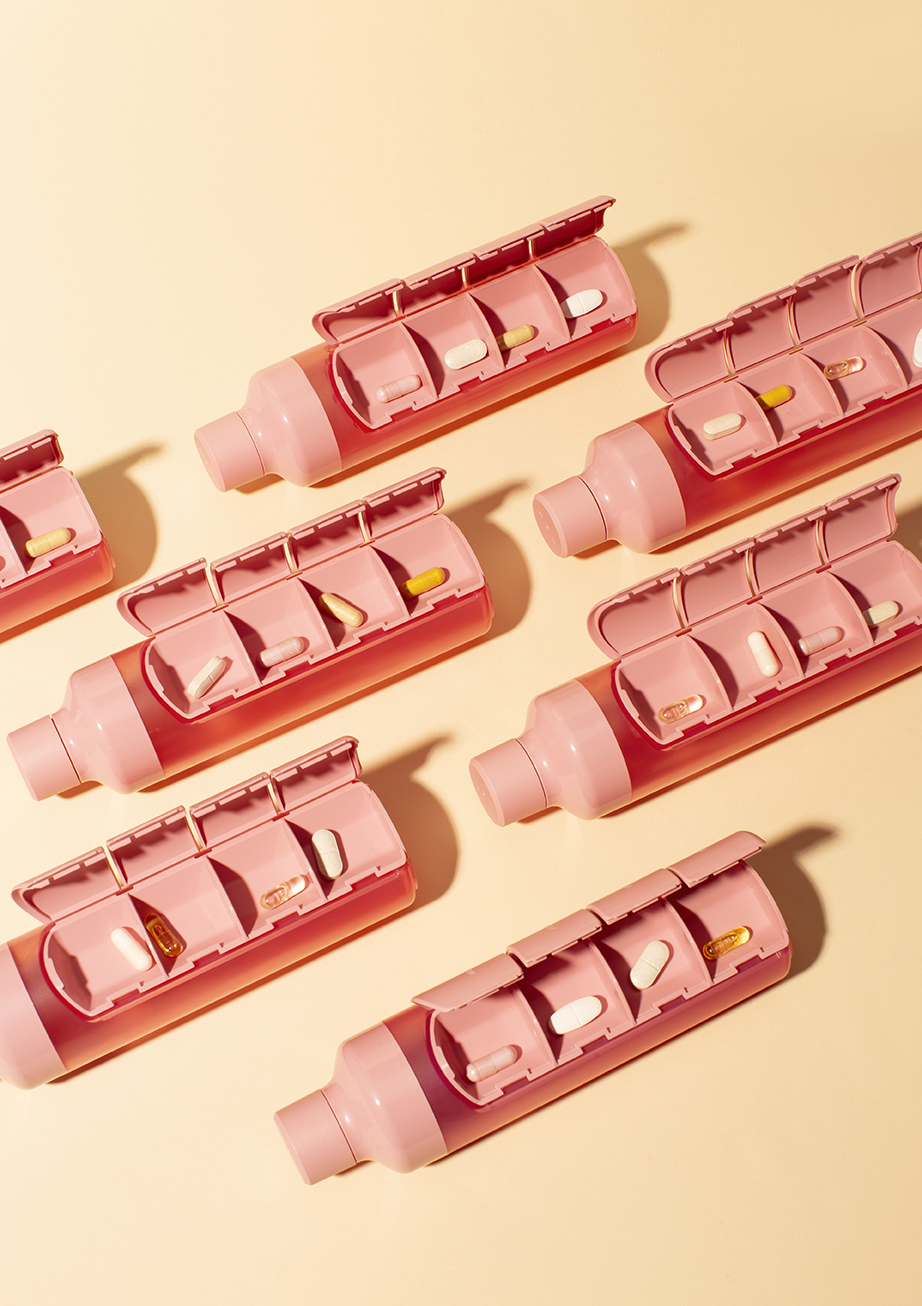 YOS Bottle features
The YOS Bottle is a water bottle and pill box in one, specially developed to make taking medication and supplements easier. During the development of the YOS Bottle, the main focus was on ease of use and sustainability, including having the entire production process take place in the Netherlands.
Is it time to take your medicine or supplements? Click the right compartment open on the pill holder and take your medication with the water. The back of the water bottle has a measuring scale to determine how much water you drink. One YOS Bottle holds 375 ml. of water.
There is a pillbox available in 4 compartments for daily bases and a pillbox with 7 compartments for weekly basis. You can click these on any YOS Bottle and thus alternate them. We advise you to wash the pill box manually, if necessary.
Product specifications
Produced in The Netherlands
BPA free
Made of recyclable material (Material: Plastic (PP, ABS, TPE)
Dimensions: 6.2 x 6.2 x 22.6
Dishwasher safe (except cap and pill box)
Capacity: 375ml
Anti-leak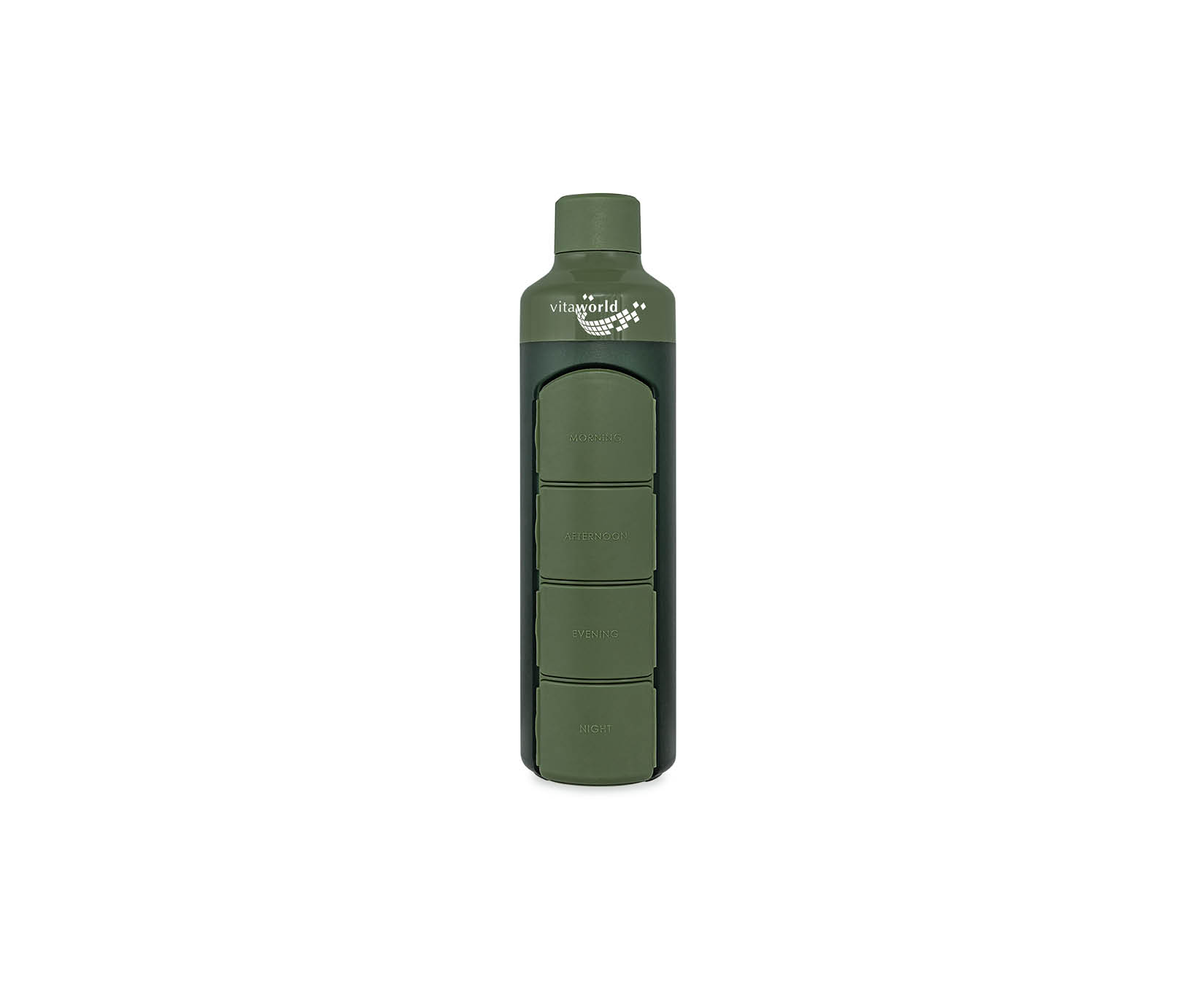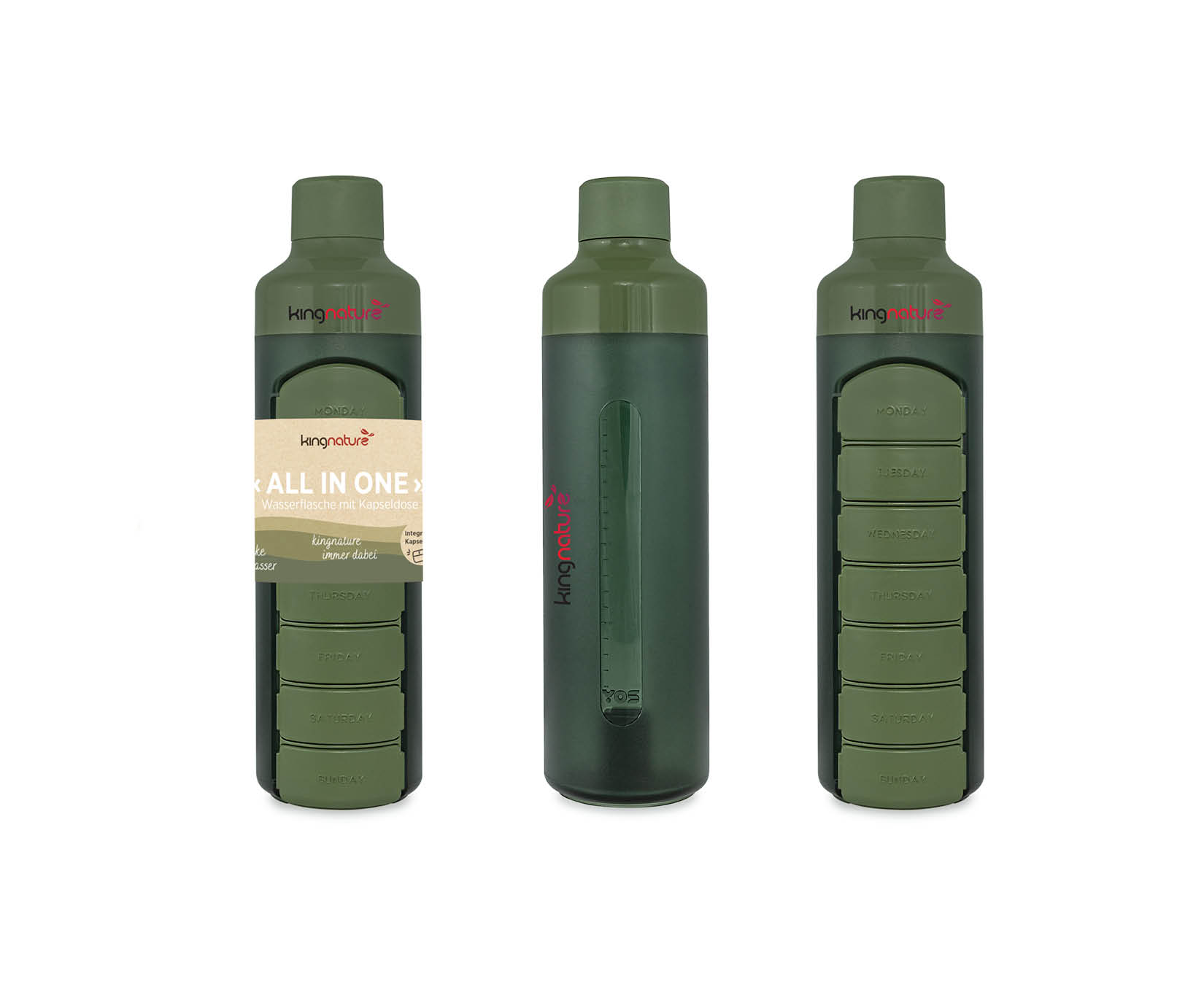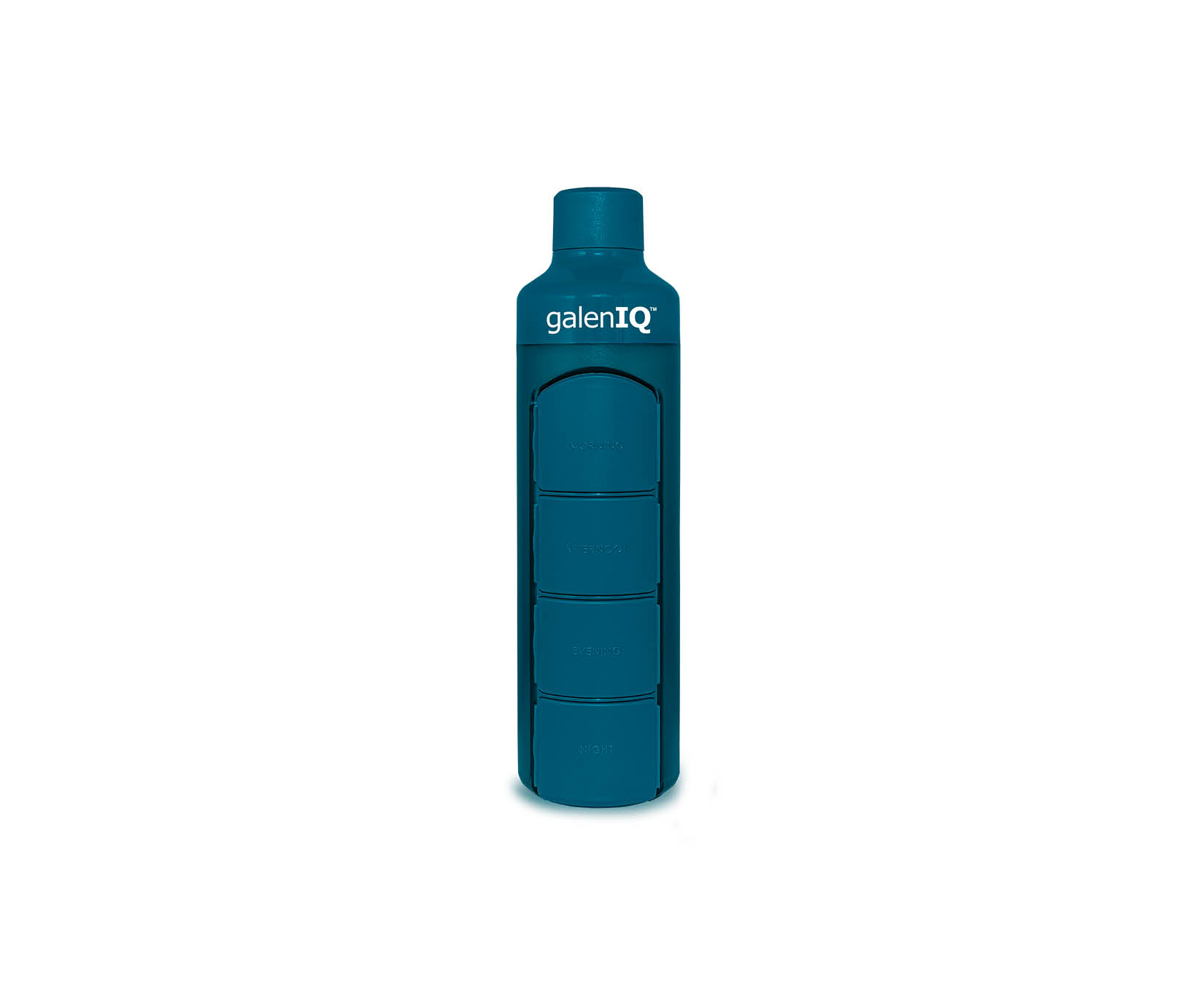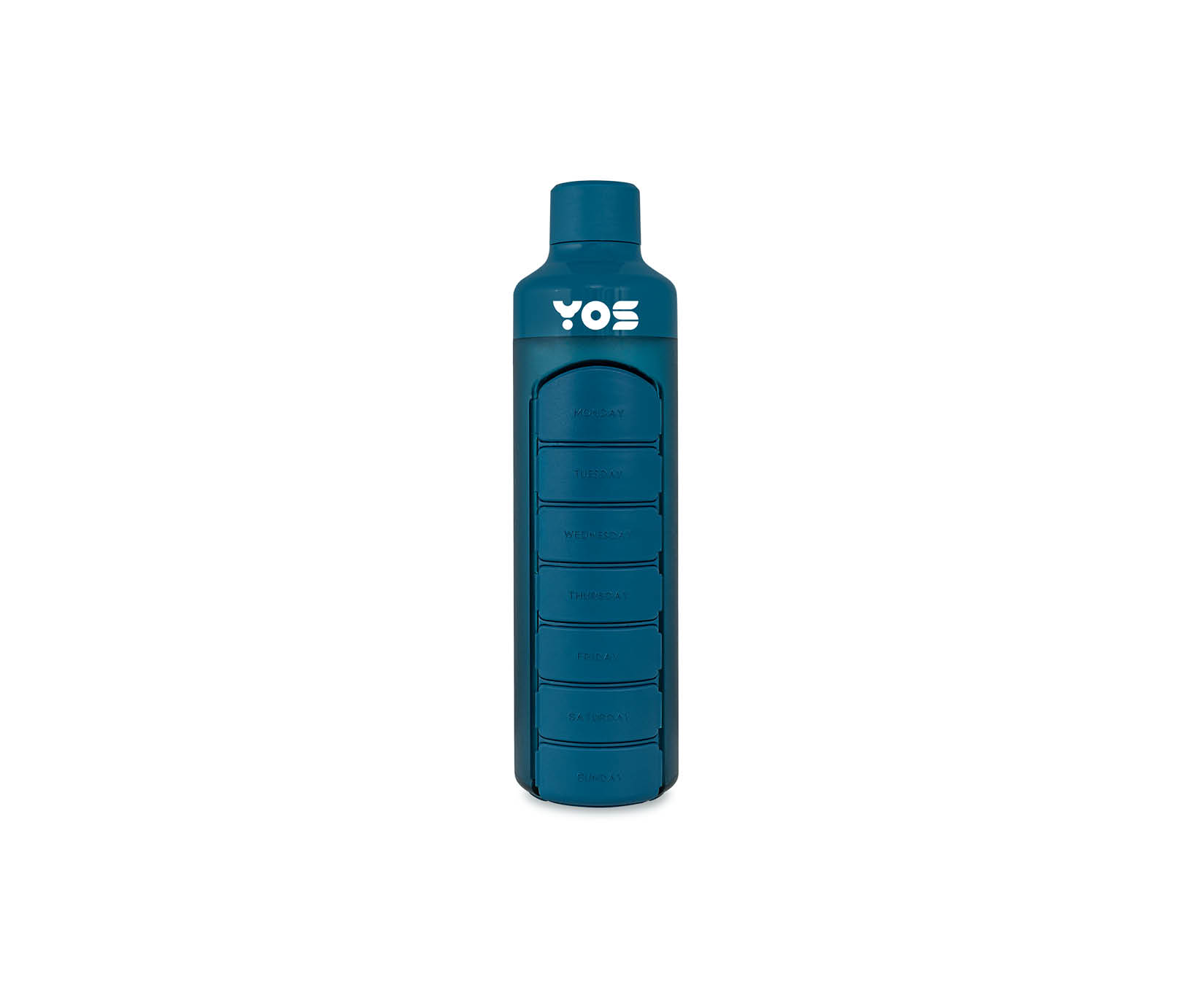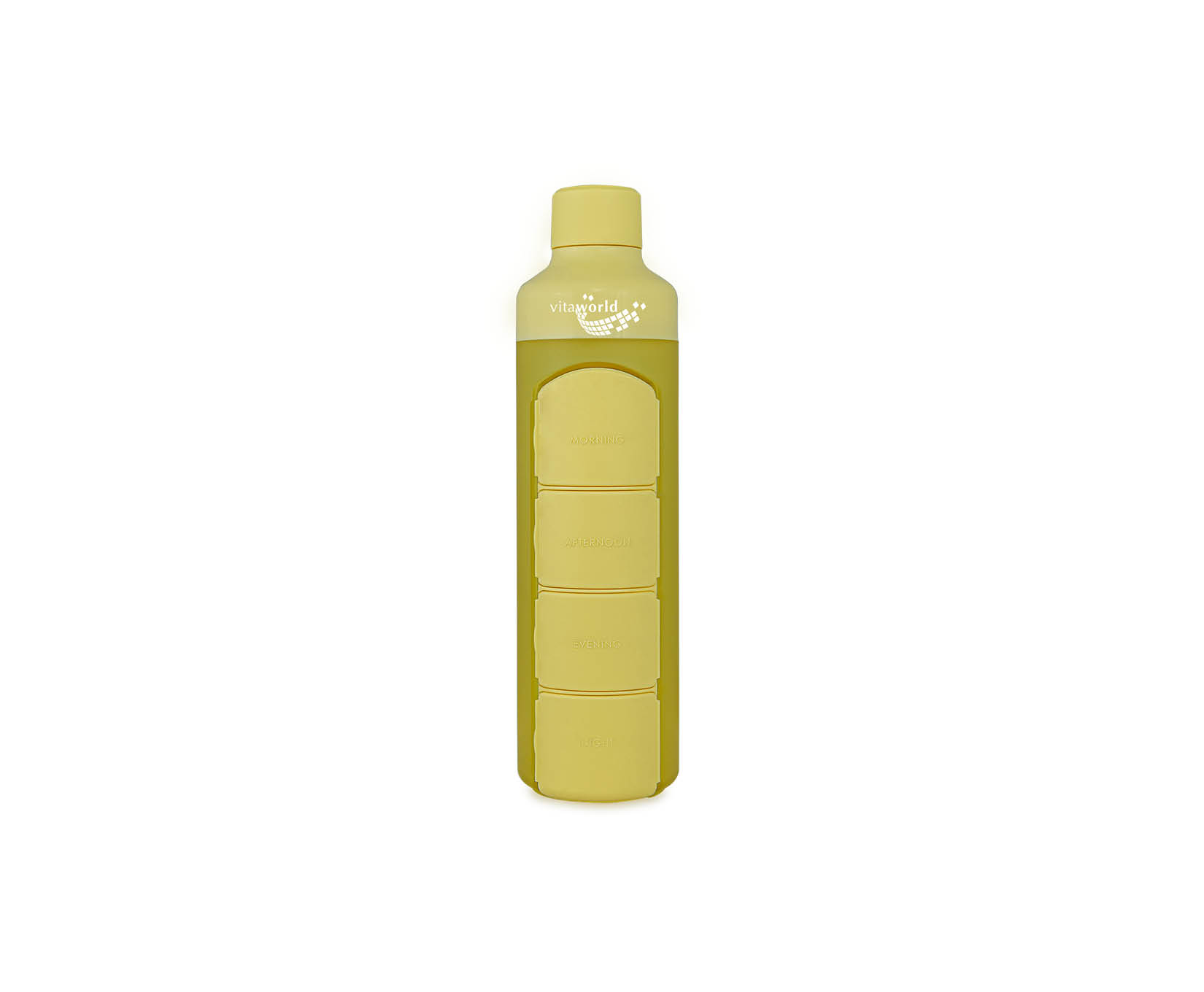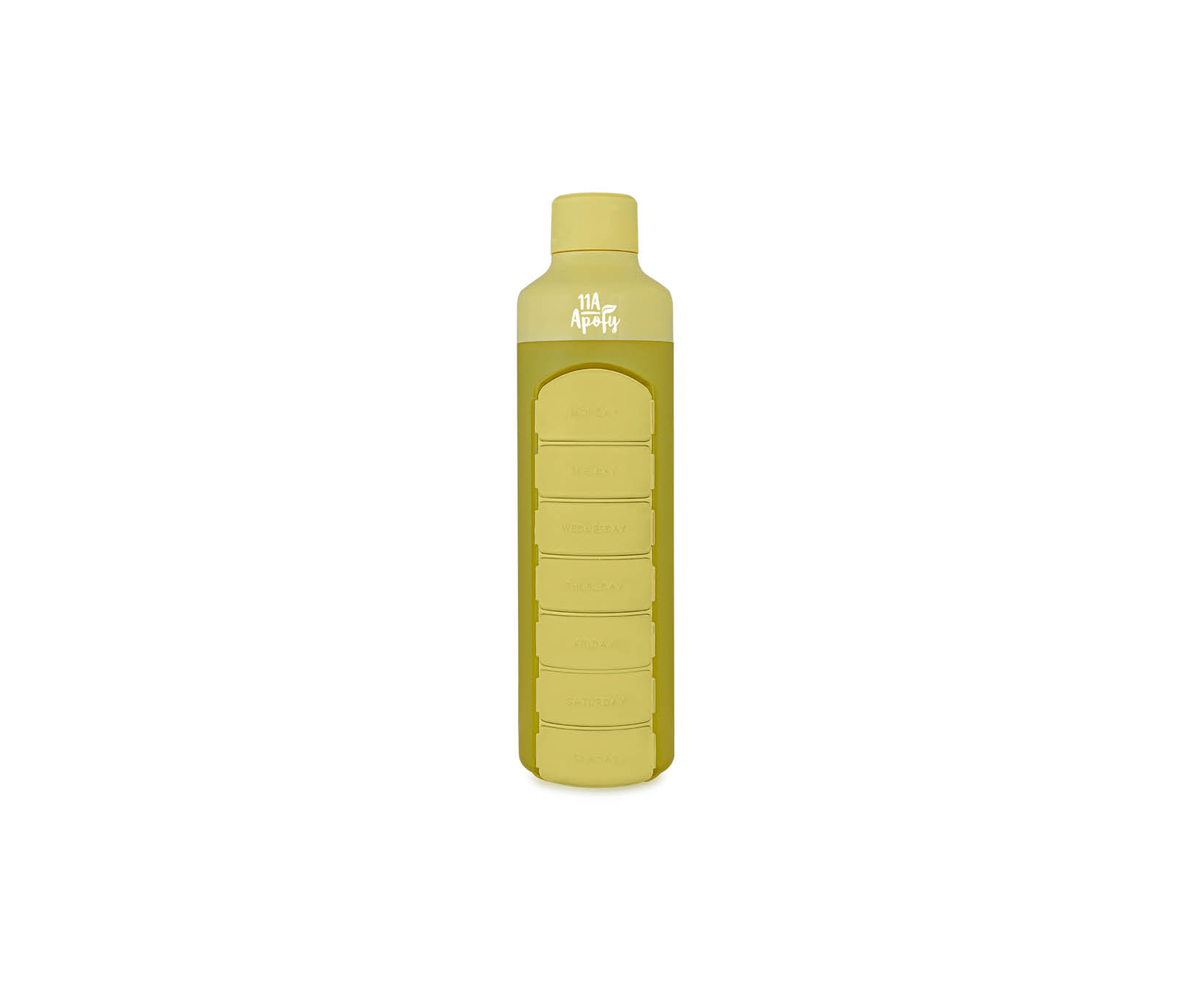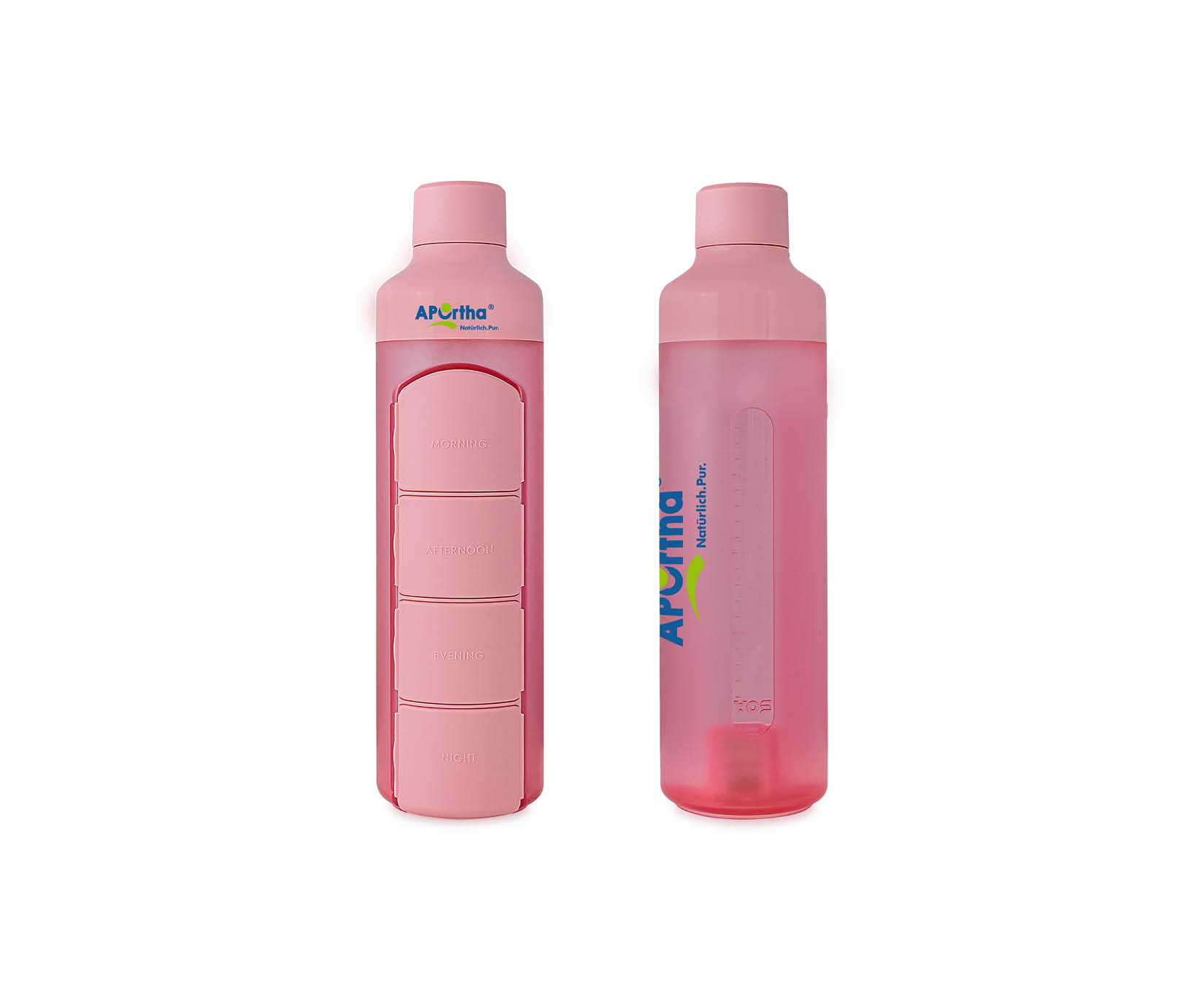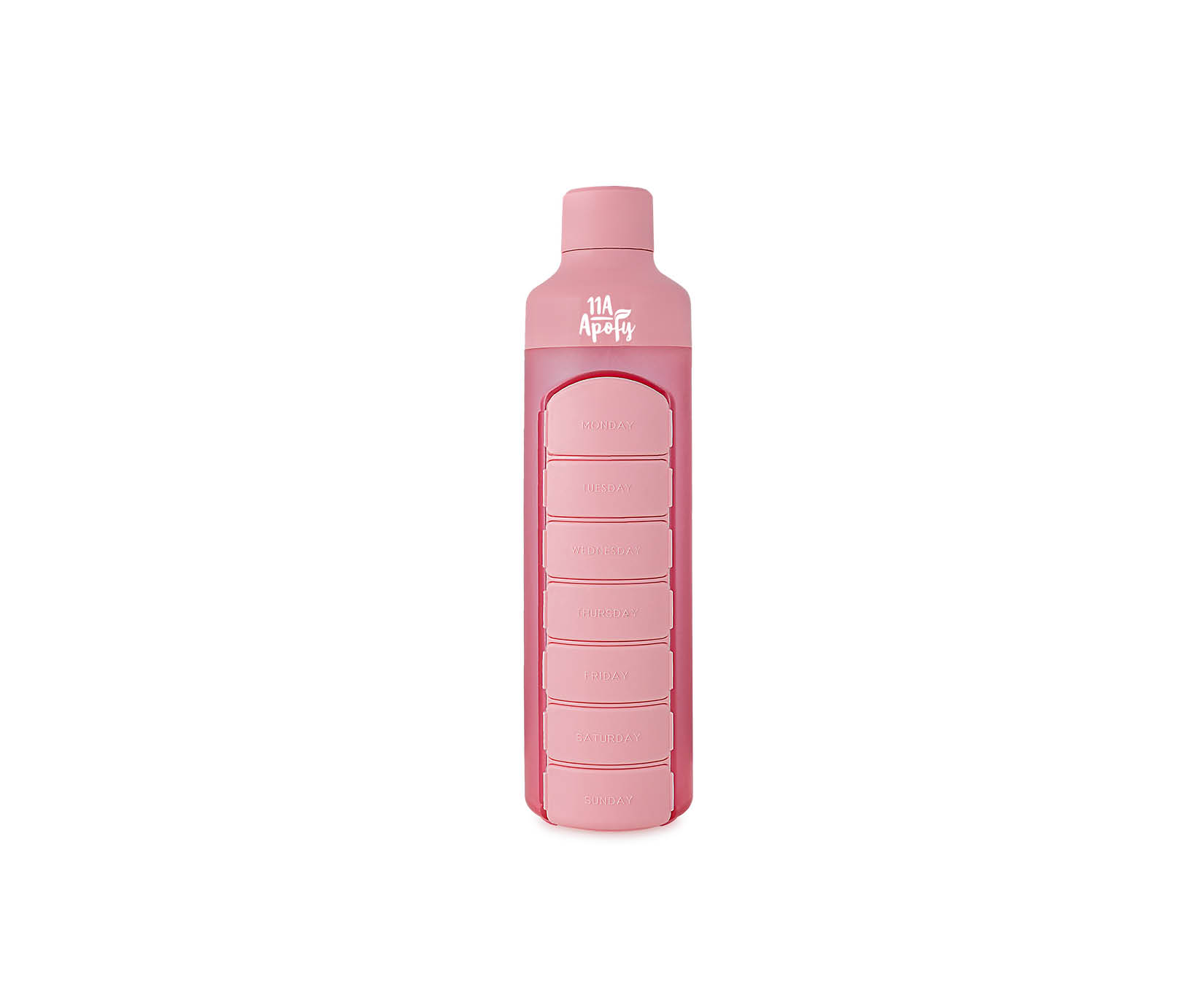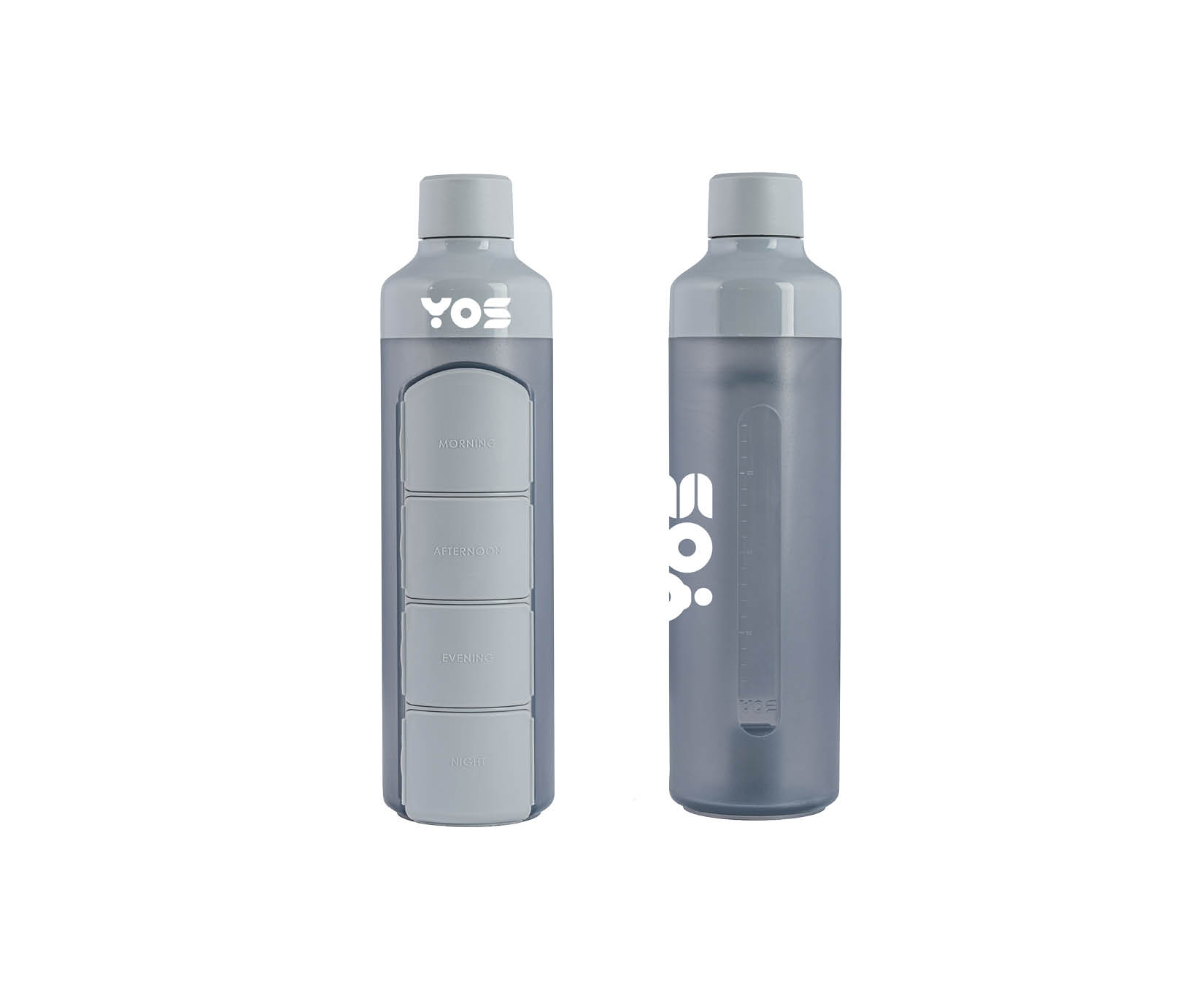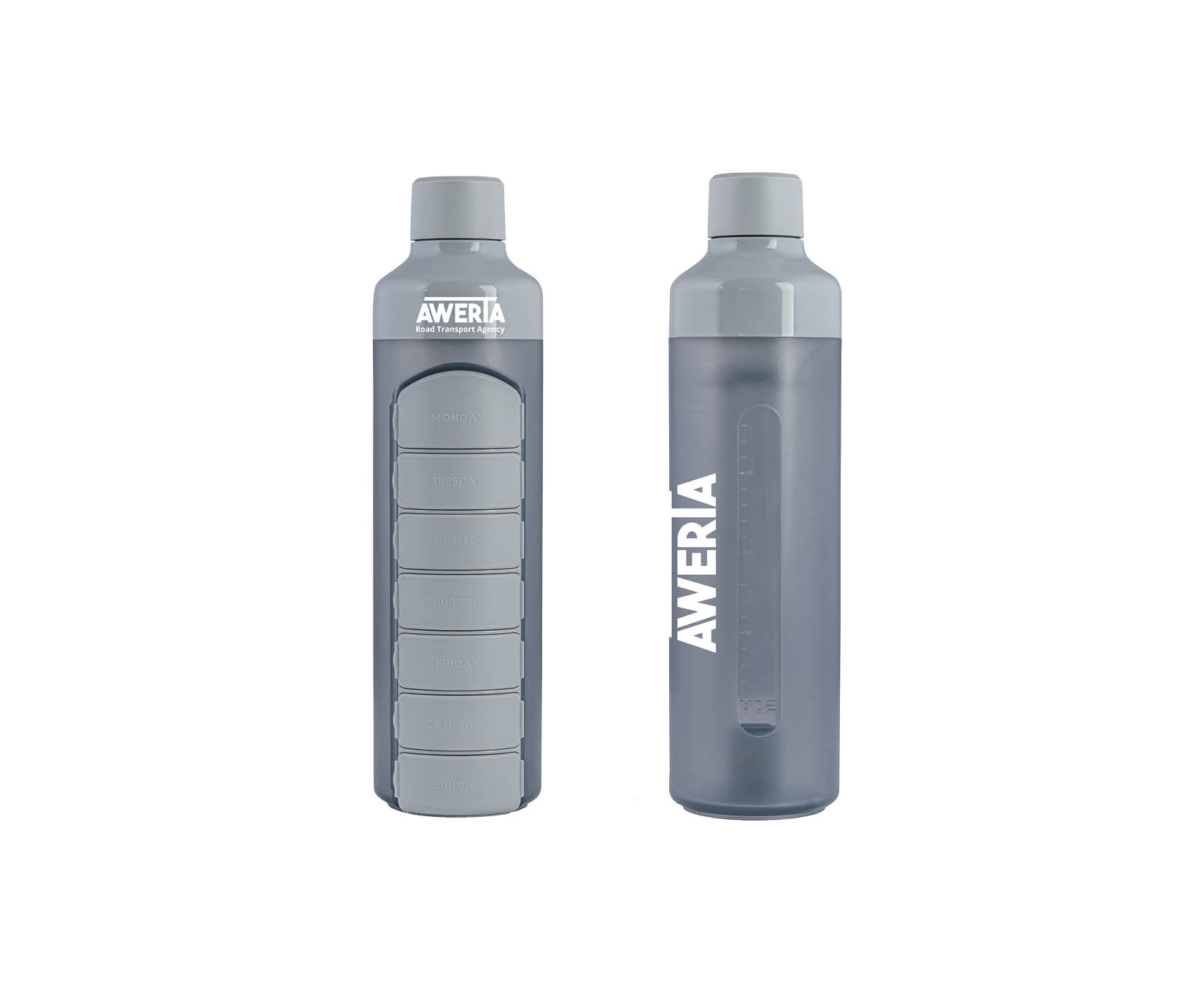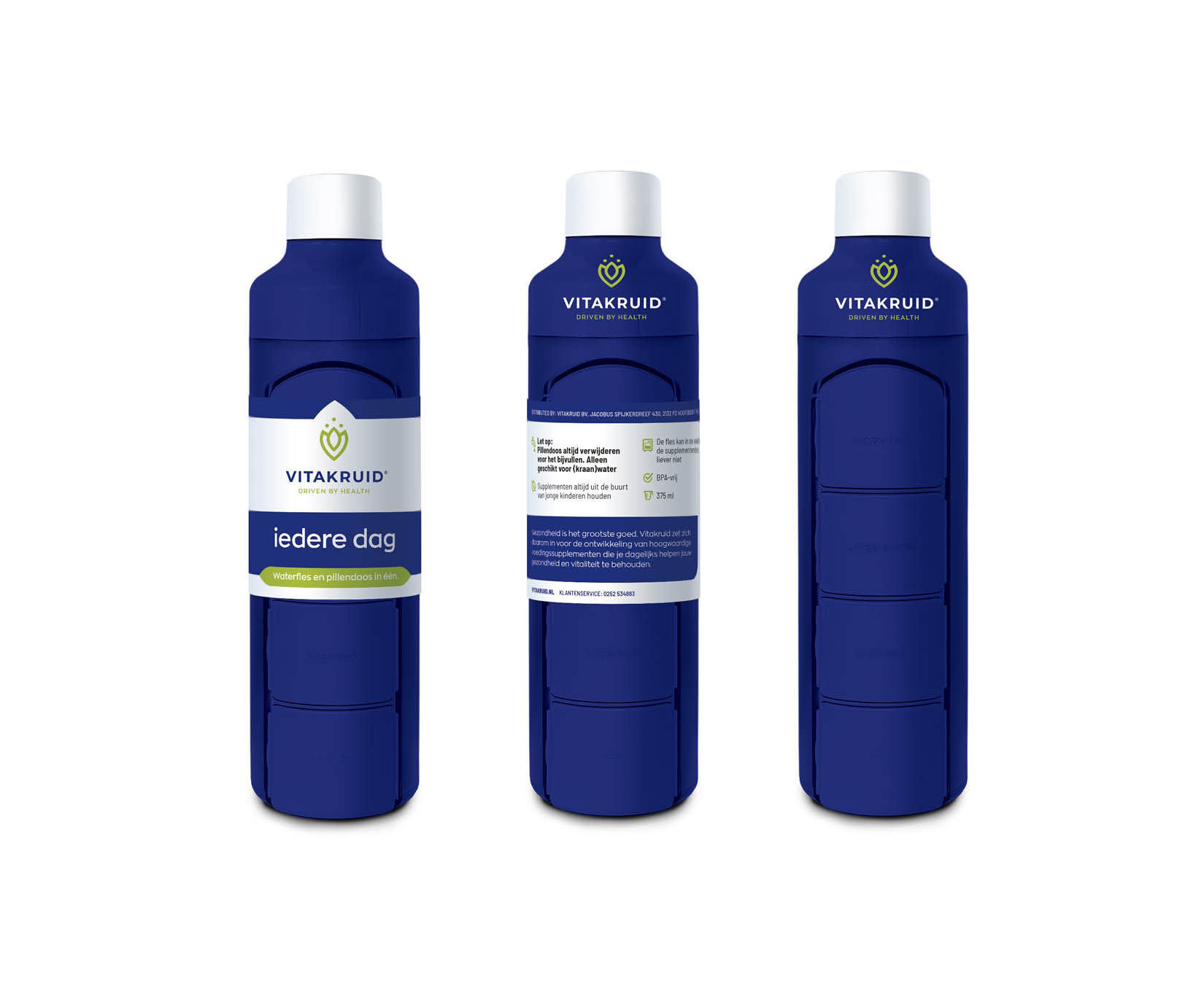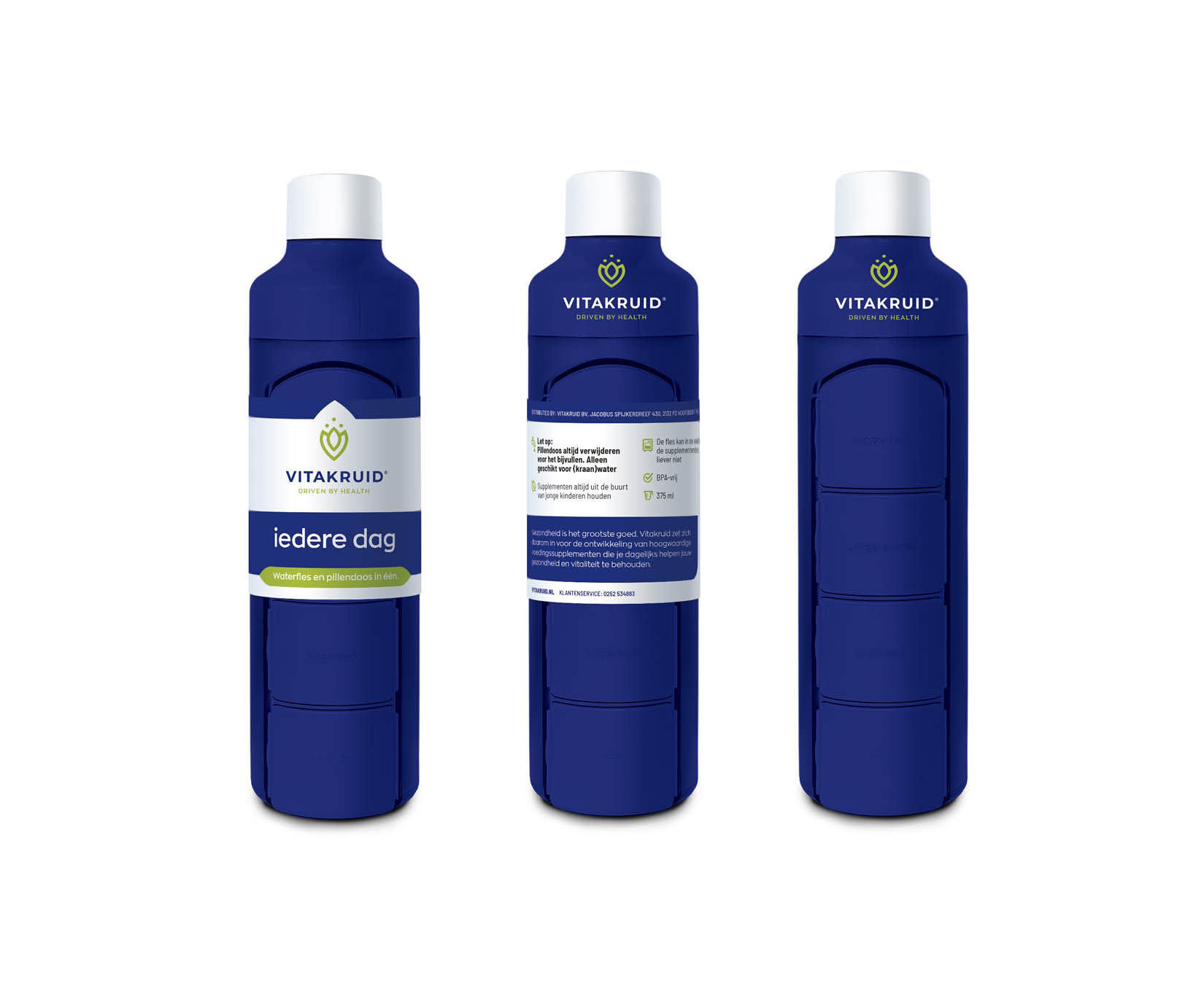 YOS Bottle
Water bottle and pill box in one
Together, we can make sure that people are more aware of their health, simply by using a water bottle and pill box in one. In this way, you are more easily reminded to take your medicines or supplements and to drink water.
Choose a regular YOS Bottle in a trendy colour or customise the bottle with your logo. Would you like to have a fully customised bottle? Sure, you can even create your own individual colour bottle.
Would you like to offer the YOS Bottle in your shop or become a reseller? The bottle is available in five different colours: blue, pink, yellow, green and grey.

Would you like to increase your brand awareness and drive customer loyalty to a higher level? Customise the bottle with your logo on it. Customers will take the bottle with your logo anywhere, every day.

Limited Edition - fully customised

Create your own YOS Bottle in your own corporate style.

Various supplement brands, pharmaceuticals and nutritionists have preceded you! Not only is it perfect as a business gift or promotional item, it is also a great product to have in your own shop. Besides, you're the only one in the world who is offering this unique bottle.

Contact us for more information!
Request a quote
We keep growing!
We work hard and take no compromises when it comes to support health and we believe in a strong network to empower healthy habits.
We are already present in seven European countries working along with distributors, pharmacies, supplement brands and direct retailers, and our ambition travel miles away. We are happy to send you a YOS bottle all the way from the Netherlands!
Spread the message that your brand is standing up to health empowerment: Our bottles are available for customization and logo branding to surprise colleagues, clients or business contacts. Get in touch with us to collaborate together.
Become a reseller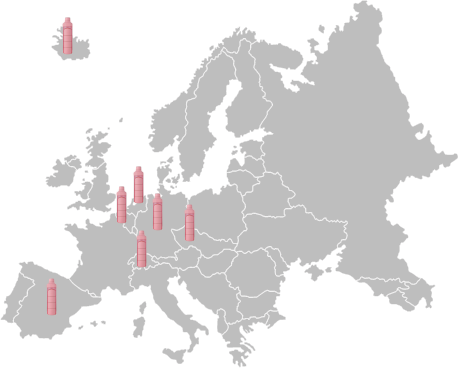 Become a reseller
Let us know what you are looking for.